26th Annual Winter Wonderland Starts Saturday, November 19th
Events
|
Posted by
|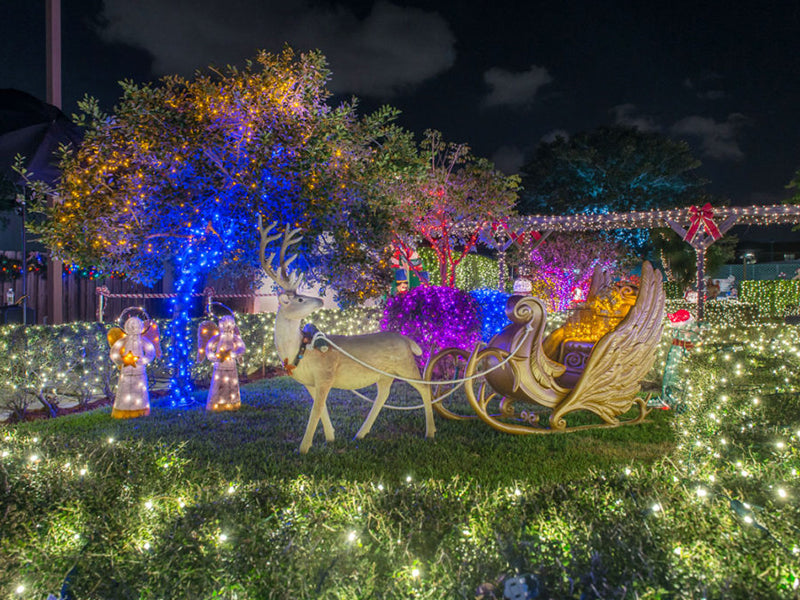 Hoffman's Chocolates is excited to announce that its 26th Annual Winter Wonderland will be open to the public at Hoffman's Chocolates Factory, Shoppe, Ice Cream Parlour and Gardens in Greenacres, Fla. (5190 Lake Worth Road) beginning Saturday,   November 19th and will run through Friday, December 30th. Festivities will be bigger than ever this year with more than 75,000 LED lights, captivating holiday displays, giant Christmas tree, live entertainment, photo opportunities with Santa and Mrs. Claus, and the opening of the new Hoffman's Chocolates Sweet Shack offering assorted chocolates, gourmet caramel apples and ice cream, for sale in the Gardens.
As part of its ongoing support of the local community, Hoffman's Chocolates will this year introduce its Inaugural Circle of Celebration Holiday Wreath Display and Contest at Winter Wonderland.  The gourmet chocolatier has invited 10 Palm Beach and Broward County non-profit organizations to decorate custom wreaths that will be displayed at Winter Wonderland.  Throughout the holiday season, Winter Wonderland guests will be able cast their votes of their favorite wreath.  Hoffman's Chocolates will then donate $1000.00 to the "winning" organization that received the most votes. The other nine non-profits will each receive a $250 donation from the chocolatier. The winning wreath will be announced on January 6, 2017.
Hoffman's Chocolates 26th Annual Winter Wonderland other highlights will include:
Colorful holiday lights and festive ornaments adorning the trees throughout the garden and a magnificent

 

12-foot Christmas tree.
Holiday bell ringers, musicians and talent from local schools, community groups and religious organizations will perform in the

 

Paul Hoffman Community Corner. Guests are invited to bring blankets to get cozy on the green lawn and revel in the holiday spirit.
Enchanting, animated holiday displays will include a beautifully lit gazebo, cascading fountains, an Arctic zone with lighted polar bears and penguins, a Nativity scene, Christmas trees and a beautifully-decorated Hanukkah display.
Santa and Mrs. Claus

 

will welcome guests and pose for photos with the whole family. Guests are welcome to bring their cameras.
Hoffman's Chocolates' festively decorated Factory Shoppe & Ice Cream Parlour will offer for purchase mouthwatering treats for the whole family including scrumptious seasonal ice cream flavors, delicious Mexican Hot Cocoa and Hoffman's seasonal Milkshakes. Hoffman's Chocolates Shoppe is also the perfect destination to find the sweetest holiday gifts.  Hoffman's gourmet chocolates, specialty gifts and gift baskets are perfect for family, friends, loved ones, teachers, stocking stuffers and corporate gifts. Hoffman's Chocolates can ship to anywhere in the U.S.
Admission to Winter Wonderland is complimentary for all guests. Please visit www.hoffmans.com/WinterWonderland for additional event details and daily updates on Winter Wonderland holiday performances and happenings.
Hoffman's Chocolates Holiday Winter Wonderland and store hours are as follows:
Hoffman's Chocolates Winter Wonderland:
November 19th– December 30th
The garden will be open nightly from 6 p.m. – 10 p.m.
*Winter Wonderland will be closed on Thanksgiving Day (Nov. 24th) and Christmas Eve and Christmas Day
Santa and Mrs. Claus will be available for photos:
Every Friday, Saturday and Sunday beginning November 25th – December 23rd from 6 p.m. – 10 p.m.
Monday, December 19th – Friday, December 23rd from 6 p.m. – 10 p.m.
Santa and Mrs. Claus will leave promptly at 10 p.m. on December 23rd to deliver presents and start their journey back to the North Pole.
Hoffman's Chocolates Holiday Store Hours (Holiday hours begin November 21st):
Monday – Saturday, 9 a.m. – 10 p.m.; Sunday, 11 a.m. – 10 p.m.
Christmas Eve (12/24) and New Year's Eve (12/31):  9 a.m. – 6 p.m.
Closed on Thanksgiving Day, Christmas Day and New Year's Day.